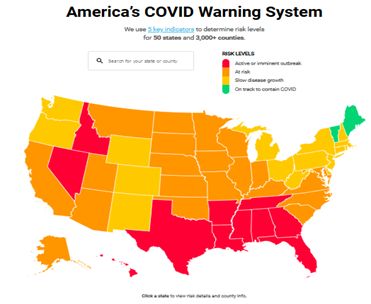 Dowding Industries Inc.
Travel Update August 11, 2020
Dear Team Members,
We would like to remind everyone of a couple important standing guidelines, advise an update to the travel guideline, and ask that you please adhere to the below.
No non-essential entry to our facilities
No entry to our facilities if you have traveled out of the country or to a domestic hot spot in the last 14 days that has been identified by Covidactnow.org as one the following two risk levels:

Active or imminent outbreak

You must notify HR if you are traveling to one of the above mentioned domestic hot spots or out of the country
To return to work, you have the option to self-quarantine for 14 days or to return sooner, you can submit documentation of a Negative Covid-19 Test
LANSING, Mich. – With several states in the U.S. now at high risk for a coronavirus disease 2019 (COVID-19) outbreak, the Ingham County Health Department (ICHD) recommends people with recent travel to high-risk states self-quarantine upon return to Michigan. Employers are encouraged to exclude such travelers from the workplace and offer telework upon return if possible. Currently, this is a self-quarantine recommendation, not a countywide emergency order. Self-quarantine should last for 14 days since a visit to a state that is at risk for active or imminent outbreak.
"Approximately one-third of positive cases in Ingham County have recent travel in their history," said Ingham County Health Officer Linda S. Vail. "Travel can be a very risky activity right now. Many people are used to being able to getaway in the summer, but this is not a typical summer. We urge caution and the avoidance of non-essential travel, especially to high-risk areas."
We appreciate your cooperation in keeping us all safe!