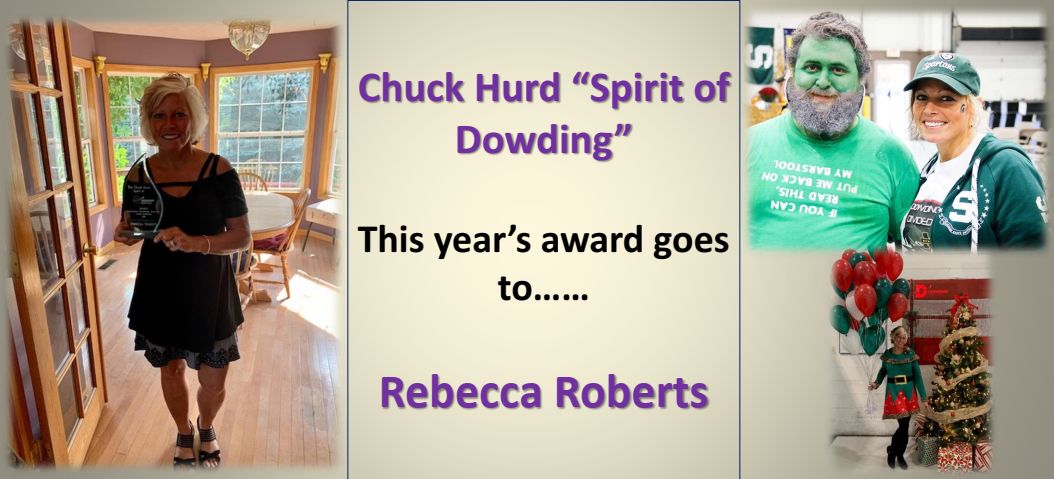 The Chuck Hurd "Spirit of Dowding" Award 2020
The 2020 recipient of the Chuck Hurd "Spirit of Dowding" award is Rebecca Roberts!

Rebecca embodies the spirit of Dowding in many ways. She has served as a foster parent for numerous kids throughout the year. The foster care was initially designed to be emergent care only, but she decided to take one special girl with extenuating circumstances under her wing through her graduation and thereafter. She also provides foster care for this girl's siblings. Rebecca invites the kids to her house for sibling get-togethers and pool parties where they stay the night. She will take them to fun activities
like the zoo, roller skating and trampoline parks. Rebecca has always been dedicated to her family, supporting her 3 children through years of activities, helping with 4-H programs and coaching her kid's
sports teams when they were younger.

Rebecca is very active in the community, with a special passion for helping the homeless. To this effort, Rebecca actively participates in clothing, food drives and picnics in the park. She also coordinates opportunities for Dowding employees to volunteer in the community, including Adopt-a-Highway, Breast Cancer awareness, and the charity golf league.

Finally, coworkers describe Rebecca as always positive and helpful. She leads the planning on many events, and using her keen eye for detail ensures that each event goes off without a hitch. Rebecca
always gets into the spirit of every occasion! With 28 years of service;
Rebecca has demonstrated her commitment, leadership and dedication to Dowding and to her coworkers by making an impact and
leaving a legacy.

The Chuck Hurd "Spirit of Dowding" Award:
After our beloved Chuck's passing 7 years ago, we decided to honor his memory with an annual award.
The award's flame shape was chosen to represent Chuck's fiery spirit; burned into our cores to flicker in our hearts forever.
This annual award was created in his honor and will bear his name for future recipients; typically presented on March 25, the birthday of our founder, Maurice "Skip" Dowding and the day before
Chuck's passing.
The Chuck Hurd "Spirit of Dowding" Award is presented to an employee who consistently exhibits compassion, commitment and leadership towards their family, coworkers, community and employer.
It is said that some people come into our lives, leaving footprints on our hearts, and we are never the same. Chuck was certainly one of these people. In short order he managed to touch so many with his
exuberant zest for living. His gift radiated God's intention for us to be a positive light force on earth. Chuck did this day in and day out: on our factory floors, at our parties, in our community and wherever
he was.
We can only hope to emulate the qualities Chuck was blessed with. We miss Chuck's physical presence as a friend, fellow employee and community member. Each time we see an abundance of Christmas
decorations, we will pause to remember Chuck… and smile.